Buffy / Angel: Are We The Lucky Ones?
Song: Lucky
Artist: Bif Naked
"What I want from you I can never have."
My first Buffy/Angel after how many years that the two shows has been off the air? Total latecomer to the fandom, I confess, but man, I totally fell for Buffy and Angel. What is it with me and tragic couples that cannot be?
This vid was done in both Sony Vegas and Adobe After Effects. Even though the programs don't integrate with each other at all, I found it a pleasure to work with both and combining the finished projects into one. I think the After Effects bits added a little something to the vid that I wouldn't want to miss.
Lastly, I'd like to thank rhoboat for the beta on this one and LadyCallie for the audio help.
Download 26.65MB file here or stream below the cut.
d
d
[flashvideo filename=mvs/lo.flv height=240 width=320 displayheight=240 /]
d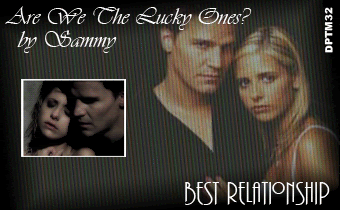 d
d
d
d
d
d
d
d
Posted: August 4th, 2009 under Angel, Buffy - The Vamire Slayer.
Comments: 12
12 Comments »
Trackback responses to this post